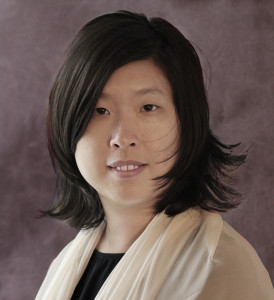 TEOW LIM GOH is the author of Islanders (Conundrum Press, May 2016), a volume of poems on the history of the Angel Island Immigration Station. Her writing has appeared in PANK, The Toast, Guernica, The Rumpus, Winter Tangerine Review, and Open Letters Monthly, among other publications. She also makes letterpress and art editions of poetry and other writings at her imprint Black Orchid Press. She lives in Denver.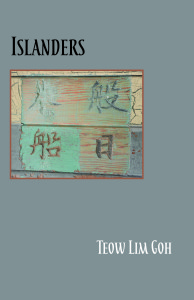 Book Title, Press, Year of Publication:
Islanders, Conundrum Press, 2016
Synopsis: Between 1910 and 1940, Chinese immigrants to America were detained at the Angel Island Immigration Station in the San Francisco Bay. As they waited for weeks and months to know if they could land, some of them wrote poems on the walls. All the poems we have on record were found in the men's barracks: the women's quarters were destroyed in a fire.
Islanders imagines the lost voices of the detained women. It also tells stories of their families on shore, the staff at Angel Island, and the 1877 San Francisco Chinatown Riot. A blend of fact and fiction, politics and intimacy, these poems chronicle a forgotten episode in American history and prefigure today's immigration debates.
What do you think makes your book (or any book) a "project book"?
Islanders has an ostensible subject, it involved research, and the context is crucial. It's not hard to argue that Islanders is a project book. But I also want to ask, at what point is a volume of poems a project? I'm working on a book of miniaturist lyrics – think early Louise Glück, or Cynthia Cruz – and though it doesn't fit the above criteria, I feel that it is a project of sorts. I suppose it is the intention: are the poems written with an organizing principle in mind?
Why this subject (or constraint)?
The first time I visited Angel Island, I was beginning to take my writing seriously and looking for subjects for my work. I had also just survived the professional work visa rigmarole – there were three times as many applicants as there are available visas, and there has not been any political will to change that. I was thinking about borders and what it means to cross them. When I saw the poems on Angel Island, I knew I was going to write about them, but it took another three years before I figured out what I had to say.
Islanders focuses on a nation and a race, but the underlying sentiments are not particular to America or the Chinese. When I was writing the book, I came to see that where I grew up, Singapore, I belonged to the racial and economic hegemony and that I had the dominant perspective in me. I have been in both positions and I wanted to explore that, too.
It is my hope that Islanders transcends this history and asks larger questions on migration and belonging.
Was your project defined before you started writing? To what degree did it develop organically as you added poems?
I started with the idea to reclaim the women's voices. I showed early poems in a workshop and a friend suggested writing from the point of view of the women's families on shore and the staff at Angel Island. I liked the idea of multiple perspectives, so I went with it. The three sections, however, did not feel complete.
For a while, I wasn't sure where else I could go with the manuscript. It occurred to me one day – a flash of insight on the bike trail – that I could tell the story of the San Francisco Chinatown Riot and examine the impulses behind anti-immigration sentiments. With that, the emotional progression of the book felt right.
How important was it for you that each poem could "stand on its own" or that the poems should rely on other poems in the book, or on the premise of the project itself, to succeed? What challenges did this present for you when writing single poems or structuring the book overall?
I felt it was most important that the book be internally consistent. In the end, some poems could stand alone, but most of them depend on the context to make sense. But what do I know – it was interesting to see which poems journal editors picked up and which they did not.
Did you fully immerse yourself in writing this project book, or did you allow yourself to work on other things?
I always work on a few things at the same time. It feels claustrophobic to devote myself to only one project. If I remember right, I would work on this book for three or four weeks and spend the next six to eight weeks on other things. I needed the downtime to step back and see the bigger picture.
Do you have a sense of whether the fact that this is a project book helped position it to find publication more easily? Has it helped you find readers?
Before I finished writing the book, I mentioned the project to a publisher I met at a reading and he said, "That sounds interesting. I'd like to see it when you're done." It wasn't a guarantee, and I sent it to other presses, too. He offered me publication a year later. I think the nature of the project helped it get read.
Placing individual poems in journals was a lot harder. A good number of editors said, "I love these poems, but it's hard to publish them without the context." Eventually, I decided to focus on getting the book, rather than individual poems, published.
I've been sending the book to reviewers and received good responses, especially for a debut poet. It helps, I suppose, that it touches on a hot button issue. I've been saying that I should thank Donald Trump for helping to generate interest in the subject.
And the book is just out. We shall see how readers respond to it.
As a reader, are you drawn to project books? What project books have influenced you or have you enjoyed, and what do you think makes those books successful?
Not surprisingly, I am partial to historical investigations in verse. I count Natasha Trethewey, Jake Adam York, and Martha Collins among my influences. Other works I love include David Mason's Ludlow, Muriel Rukeyser's The Book of the Dead, and Diane Gilliam Fisher's Kettle Bottom. I'm looking forward to Kierstin Bridger's Demimonde, out from Lithic Press this spring, which tells the stories of saloon girls and prostitutes in the mining camps of the Old West. Verse is a powerful way to enter the lived consciousness of history.
After completing a project, how did you transition into writing something new? What are you working on now? Another project?
I'm working on another project, on the massacre of Chinese coal miners in Rock Springs, Wyoming in September, 1885. There has not been much published on the subject; the most comprehensive account claims that the Rock Springs Massacre and the Chinese Exclusion Act have "little to do with race prejudice or immigration policy. The issue, rather, was the status of the American workingman in the industrial era."
I spent the last two years – after I finished the first draft of Islanders – researching this story. I drove up to Cheyenne, Laramie, Rock Springs, Green River, and Evanston to visit archives and see the high desert of southwestern Wyoming for myself. Now I'm mulling on the material. I know the story, but I haven't figured out how I want to tell it. In the meantime, I'm working on other things.
One of my long-term projects is to tell the histories of Chinese immigrants in the American West. I have an idea for a third book, but it's too early to say where it'll go.
What advice can you offer other writers, particularly emerging writers or poetry students who may be using the project book as a guiding principle for their own work?
Write the book that you have to write. Especially in the early stages, don't worry about where and how the book fits into existing paradigms. If you approach it with a sense of possibility – and I need to remind myself of this as I work on the Rock Springs Massacre – rather than having preconceived notions of what the book should be, you'll find the tools you need to develop your work.