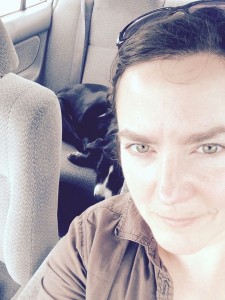 ELIZABETH J. COLEN has lived in more than three dozen houses and apartments in seven different states. She is most recently the author of What Weaponry, a novel in prose poems. Other books include poetry collections Money for Sunsets (Lambda Literary Award finalist in 2011) and Waiting Up for the End of the World: Conspiracies, flash fiction collection Dear Mother Monster, Dear Daughter Mistake, long poem / lyric essay hybrid The Green Condition, and fiction collaboration Your Sick. She teaches at Western Washington University.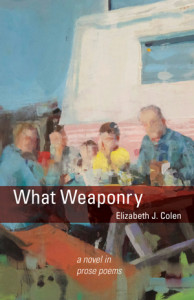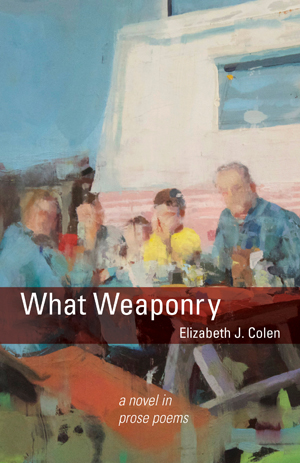 Book Title, Press, Year of Publication:
What Weaponry, Black Lawrence Press, 2016
Synopsis: What Weaponry is a novel in prose poems about the disintegration of a relationship. As the couple settles into a small-town move, feelings of paranoia bloom, mental and physical brutality grows between them, and their connection to the outside world falls into rapid decline.
What do you think makes your book (or any book) a "project book"?

For me, poems start themselves however they will. At some point a form or theme or throughline or other obsession develops out of disparate pieces. Once this happens, either during or (as in the case of What Weaponry) after the initial draft, I return to revise toward that central thematic or narrative obsession.

Why this subject (or constraint)?
With this book I started with two characters from a poem in my first book, people I wanted to get to know better and let their worlds evolve. What Weaponry is what they became.
Are you comfortable with the term "project book"?
Sure. I understand it more as a book with an organizing principle. Which are the books I tend to enjoy best.
How important was it for you that each poem could "stand on its own" or that the poems should rely on other poems in the book, or on the premise of the project itself, to succeed? What challenges did this present for you when writing single poems or structuring the book overall?
It is my hope that the poems in this book are both particle and wave. That they are each their own discrete and complete moment, understandable solo, but also that they illuminate and recall each other, circle back referentially by way of image and metaphor and subtle repetition so that the collection becomes greater than the sum of its parts.
With my last collection of poetry (Waiting Up for the End of the World: Conspiracies), very few of the poems were published individually. And I think the reasons for that are two-fold. They were strange and editors didn't know how to fit them into a journal (I was told). And because they relied so heavily on one another. The poems in What Weaponry were almost all published individually in journals.
At any point did you feel you were including (or were tempted to include) weaker poems in service of the project's overall needs? This is a risk, and a common critique, of many project books. How did you deal with this?
There are certainly poems I enjoy more than others. And one or two that even this early in the game (What Weaponry was only recently published) I would like to return to to tinker with. There are a few that throw a bit of a curve ball stylistically, and I had to debate myself over whether or not to include those (though I told myself thematically those poems supported shifts in the characters' fluctuating emotional stamina in the face of trauma). But no, I included no poems I considered weak, though I did write quite a few that ultimately got cut. There are moments of elision that probably feel palpable in the book, where a reader can sense there's something missing. Considering this particular narrative, blank spaces within the narrative serve (I think) to increase both the tension and a reader's investment in the overall meaning-making process. In general, my philosophy is that gaps are good. Or can be. They can be the thing that completes, oddly enough. So yes, any slack is always cut.
Did you fully immerse yourself in writing this project book, or did you allow yourself to work on other things?
I am generally always working on several things at once. Similarly, I am always reading at least three books at once: poetry, something narrative, and something educational.
The first draft of What Weaponry was written over a three-week period and almost entirely on one of two trains: the Empire Builder (Seattle-Los Angeles) and the Southwest Chief (Los Angeles-Newton, Kansas and back). For that reason, I was not only wholly immersed in this one project over a period of time, in that period of time I was so wholly immersed that I did absolutely nothing but work on it, 12-14 hours a day, or stare out at the landscape rushing by. A momentum I hope is captured in the book.
Have you abandoned other project attempts? How did you know it was time to let go? What happens to project poems that never amass a full-length book?

Not often, but sure. And it's hard to know when to let go, as it is hard to know when something is fully finished. For me, I think I just feel (rather than rationalize) the end, when I need to abandon something. Sometimes that means it's done. Sometimes that means it's dead.
And failed manuscripts are estuaries dragged for spare parts.
After completing a project, how did you transition into writing something new? What are you working on now? Another project?
I tend to work by project and I tend to work obsessively and fast, calendar-wise (12-hour days of writing, regardless of / on top of other obligations). For this reason, between books I tend to give myself a break, wait for a new obsession to form organically. I wrote the first draft of What Weaponry five years ago, spent a year revising it, and have been mostly on a happy hiatus since then while waiting for the coffers to fill.
That said, in those intervening years I was also in an MFA program, during which I wrote a thesis of new poems that may or may not be something I return to at some point. I am also currently collaborating on a collection of linked short stories with the writer Carol Guess, which keeps me working.
What advice can you offer other writers, particularly emerging writers or poetry students who may be using the project book as a guiding principle for their own work?
While it can be extremely helpful to have a project in mind that you are continually working towards, keep your concept loose until you have a full manuscript draft in hand. What you think you're doing is probably not going to be what you actually did. Let the book speak to you. It will tell you what it wants to be. Listen.