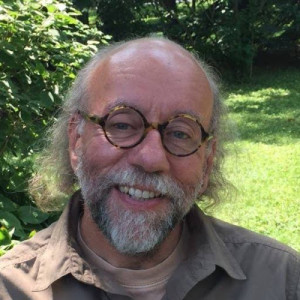 DENNIS MALONEY is a poet and translator. His works of translation include The Stones of Chile by Pablo Neruda, The Landscape of Castile by Antonio Machado, Between the Floating Mist: Poems of Ryokan, and the The Poet and the Sea by Juan Ramon Jimenez. A number of volumes of his own poetry have been published, including The Map Is Not the Territory: Poems & Translations and Just Enough. His book Listening to Tao Yuan Ming was recently published by Glass Lyre Press. He divides his time between Buffalo, NY and Big Sur, CA. He is also the editor and publisher of White Pine Press in Buffalo, NY.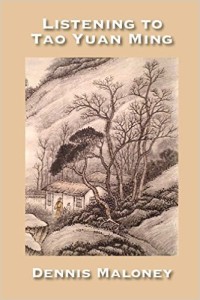 Book Title, Press, Year of Publication:
Listening to Tao Yuan Ming, Glass Lyre Press, 2015
Synopsis: Listening to Tao Yuan Ming is a conversation with the historic Chinese poet, Tao Yuan Ming (365-427) including versions of his poems, letter poems to him, and poems written in his spirit, creating a dialogue across history and culture.
What do you think makes your book a "project book"?
The focus of the book, which is the Chinese poet Tao Yuan Ming and a poetic dialogue with him over time.
Why this subject (or constraint)?
This volume started with the gift of a painting from my dear friend Akio Saito-san, one of the last in a long line of Nanga painters. On a visit to his home in Kyoto, Japan he surprised me with the gift of the painting which graces the cover. It depicts the scene of Tao Yuan Ming and the preface of the Twenty Poems after Drinking sequence in calligraphy. Tao's fondness for wine was legendary and this sequence of poems, as the preface indicates, was written on various occasions after drinking wine. My versions, or visions, here use Tao's original poems as a starting point and work to strip them to their essence.
Song Dynasty poet Su Tung-po wrote harmonizing poems for all of Tao's poems, a common practice in Chinese poetry. Section two, "Letters to Tao Yuan Ming," continues that tradition and addresses Tao directly. Section three, "Listening to Tao Yuan Ming," comprises poems inspired by his work and spirit.
Are you comfortable with the term "project book"?
Yes, I think of a project book as a book on a specific subject or built around a central theme or idea.
Was your project defined before you started writing? To what degree did it develop organically as you added poems?
The project started with the versions of the Twenty Poems after Drinking Wine, which I thought would be a chapbook but ended up becoming section one of the book. While I was working on section one I started working off lines from some of his other poems and writing letters or poems of address to him. As I worked on the poems, the idea of the three-part structure of the book evolved. The book grew very organically as the poems were written. The poems in sections two and three were written over the same period of time. I shuffled the poems around a number of times trying to find the right sequencing and order for them.
Did you allow yourself to break your own rules?
I didn't really establish any hard and fast rules, so there wasn't anything to break. The poems in section three come from a wide variety of inspirations and sources. A number of the poems reflect the landscape of Big Sur where I live part of the year, and others reflect trips to Japan and Korea.
How important was it for you that each poem could "stand on its own" or that the poems should rely on other poems in the book, or on the premise of the project itself, to succeed? What challenges did this present for you when writing single poems or structuring the book overall?
I feel it is very important for each poem to stand on its own. While I think the poems in a section work together in a synergy that creates a larger whole, it is vital that each stands on its own. Many of the poems were published singly or in small groups in various magazines and online journals.
I worked for the City of Buffalo as a landscape architect for thirty-four years before my retirement about eight years ago, so I could empathize with Tao's struggle between government service and a return to his farm and the place he loved. Some of the poems in section two reflect this struggle, particularly his, between the need to work in government service to support his family and the desire to return to his simpler life as a poet.
At any point did you feel you were including (or were tempted to include) weaker poems in service of the project's overall needs? This is a risk, and a common critique, of many project books. How did you deal with this?
I didn't include poems I don't feel good about as being complete. There were a number of ideas for poems that didn't make it to realized poems, so perhaps they will land in a future volume or remain ideas in the notebook.
Did you fully immerse yourself in writing this project book, or did you allow yourself to work on other things?
Early on in the process I would say I was working on a variety of poetry, including work outside the volume. When I got into the final stretch of putting the collection together, however—say, the last five to six months—I worked exclusively on this collection.
Did you ever lose momentum, bore yourself, or worry that your project could not be sustained for a full-length book? How did you push through?
As mentioned earlier, the book started as a chapbook-size volume of the first section of the book, which seemed (and was) a very modest-sized project. As I conceived the larger project, I didn't know how it would grow. I had the concept of the book in three sections but wasn't sure how much material I would have for sections two and three.
Section two of Letters to Tao Yuan Ming started as I pulled lines and stanzas from some of Tao Yuan Ming's poems and began, in some cases, a dialogue in the poem, and in others, addressed poems to him. Some compare contemporary life to his, his interest in nature, thoughts on immortality, government service, and solitude. I live part of the year in Big Sur, California in the middle of a redwood forest, so there was a deep connection with his feelings for the wonders of the natural world and the necessity of solitude to the writing life.
Some poems came out of surprising connections I found while writing the volume. The Norwegian poet Olav Hauge wrote a poem inviting Tao Yuan Ming to his apple orchards and farm on in Western Norway. I visited Hauge on his farm in 1990, and this came together in the poem "If Tao Yuan Ming Came to Visit." A Dutch poet, Nachoem Wijnberg, whom White Pine Press is publishing, sent me a monograph about the Chinese poet Su Dongpo and the fact that he had written harmonizing poems to all of Tao Yuan Ming's poems a thousand years after Tao Yuan Ming. The poem "All Those Nights We Harmonized" is a direct result of that. There is a long tradition of writing harmonizing poems in China to the work of earlier poets. The poems in this section can be seen as part of that tradition. Other American poets have explored this tradition as well, notably David Budbill, who created the image of Judevine Mountain in the tradition of Han-shan or Cold Mountain and has written three books starting with Moment to Moment that work off the poems of Han-shan and other Chinese and Japanese poets; and James Lenfestey, who wrote A Cartload of Scrolls, poems in the manner of Han-shan.
There is of course a much longer tradition of the influence of Chinese poetry on American poetry starting with Ezra Pound and Kenneth Rexroth continuing through Gary Snyder, Robert Bly, James Wright, and many others.
As you were writing, were you influenced by your experience or perception of how project books are received by readers and editors (either positively or negatively)? Do you feel differently about your book being defined as a "project book" now that it has been published than you did when you were writing it?
I would suggest that "project books" have a long tradition. One can argue that Chaucer's Canterbury Tales is one of the first project books. As the publisher of White Pine Press, I have published a great diversity of what might be considered project books over the years. These include Tekonwatonti: Molly Brant by Maurice Kenny, a book of historic persona poems; Pelvis with Distance by Jessica Jacobs, a meditation on the work of artist Georgia O'Keeffe; Light From An Eclipse by Nancy Lagomarsino, a prose poem memoir of a family dealing with Alzheimer's disease; and Distant Lands by Polish poet Agnieszka Kuciak, a faux anthology of 21 invented poets in the tradition of Pessoa.
Do you have a sense of whether the fact that this is a project book helped position it to find publication more easily? Has it helped you find readers?
I don't think the fact it was a project book influenced its acceptance for publication. I do think it is a subject that will be of interest to poetry readers and those interested in Chinese poetry.
As a reader, are you drawn to project books? What project books have influenced you or have you enjoyed, and what do you think makes those books successful?
I read a great diversity of poetry, both American and in translation. Project books and the long poem certainly are part of my reading and influences. In addition to the books I previously mentioned, I enjoy rereading books as diverse as Gary Snyder's Mountains and Rivers Without End and Tomas Tranströmer's Baltics. I am also a big fan of the work of Cole Swensen and Natasha Trethewey, who have written a number of project-focused books.
What effect do you think the prevalence of project books is having on poetry in general?
I think project books are a healthy part of the mix of contemporary poetry.
After completing a project, how did you transition into writing something new? What are you working on now? Another project?
After finishing this project, I went back to working on a number of discrete poems as well as a new sequence of poems, Border Crossings, which will be part of a bilingual book coming out in Germany later this year.
What advice can you offer other writers, particularly emerging writers or poetry students who may be using the project book as a guiding principle for their own work?
I think particularly emerging writers or students need to be open to the unknown. When starting a project, you need to be open to the possibilities that will emerge as you write and allow the project to develop without having a firm conclusion in mind. I also think it is most important to read contemporary poetry, in this case, examples of project poetry, to see how other poets approach their subject and utilize the tools of the lyric and narrative modes to develop their project and observe how they pull the strands together.